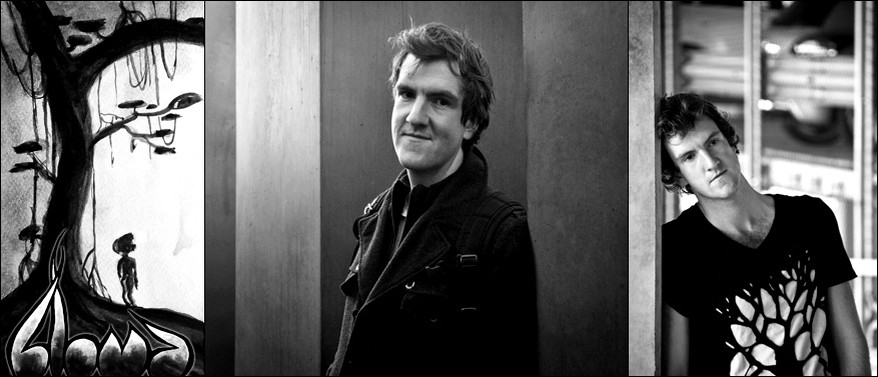 Hi Paul! First, congratulations on your first album, "Bloma". Such an unexpected, exciting journey into sound..

Thanks! I'm glad you found it as exciting and unexpected as I did.

How long did it take you to complete this work, and how did it all start and progress?

I started in February 2014 and finished in September. After creating my first EP under the name Child, I found myself in a very fortunate position, in that I had free reign over a recording studio with plenty of high-end equipment. Early songs were influenced by late night recording sessions, fuelled by marijuana, paranoia and creativity. It was originally to be an EP but I had too much material that I wanted to put out. The songs started to play off each other. I eventually did most of my work during the daytime, shutting myself in the studio and creating my own worlds. I'd work long days in the studio, sometimes I would go in there at 3 in the morning, if the inspiration took me. I became completely obsessed. I constantly played my songs when I got home, in the car, on headphones while drifting off to sleep, while working delivering pizzas, and wrote notes on what I would do the following day. I have a full book of notes that spans the entire recording process.

Inside the case of the CD, you give us two definition of the word Bloma. One means blossom, the other lump of metal. Is this a word you created on your own, and what is the story behind it?

It is a random word I wrote down when I was stoned, that is the original title for the song 'Child'. It happened to be a real word when I looked it up. I looked at the definition and thought 'it's too good to be true!' So I changed my name from Child to Bloma.


Would you say this is also a perfect definition of what "Bloma" sounds like?

I'd say it's a pretty damn good one.

Your album is a very surrealistic trip. What are the songs about, and which is the one track you cherish the most?

A common theme was my insecurity about my girlfriend staying with me. In "Thick", I say 'Stay a while in my prison' and in Return 'Stay a while in my tomb.' But I'm also talking to the listener, because you're transported into my world. "Child" is about a paranoid fantasy I had about a creepy security guard lurking outside my studio in the dark, listening to what I'm doing and plotting sinister things. I thought it was the most disgusting song I'd ever heard and only some disgusting people would like it. When I showed my girlfriend she said it was the best track I'd ever done!

My favourite track is "Earthson". It's got that tribal, heavy feel to it, and the way it transitions to the angelic parts are just so good. And then it snaps back into fury. And the ending always makes me feel great. It just came out perfectly. It's not too long, which means I can listen to it more often. And it's great fun to sing live.

How does an artistic vision/track become reality in the Bloma universe?

I would be in the studio mixing a song I'd already done, and accidently play something that sounds awesome. Quite often a drum pattern. Sometimes a guitar riff. Deeper came from moving around some chords accidently. Then I would immediately create a new track from scratch based on that idea and push it to the limit. 12 hours later I would emerge with a song. Every single song, there was some hurdle to overcome. Some key to the song that I had to fight through to the centre. I had to be very honest with myself to get it right. I wanted the songs to explode at some point, like all good death metal does, and like Tool does, to get that injection of happy chemicals into the body that the brain administers. After a long session of ejaculating my brain into soundwaves, I felt like I was walking around naked. Like everyone could see through to my very core. It's a weird feeling.

There are many songs that are most remarkable for their inner progress. On "Earthson" for example, you begin with a heavy beat and end up quite lightly. Something that happens by chance, or do you already know the structure of the song before playing it on the keyboards?

It happens by following my instincts in the moment of creation. None of it is planned beforehand. I have no idea what's going to happen, but I know exactly what I like. There has to be some genius to it that twists the sound on its head. Sometimes it works, when everything aligns and I put in 100% effort. Other times, something pulls me away. You have to put in 100%.

Somehow I got the feeling that your music is also meant as a spiritual force, right?

I took a lot of mushrooms when I was younger and this has profoundly influenced my reality :-)

Your Singing varies from aggressive, deep vocals to fine, etherous tones and sometimes also rap. Seems as if you are curious by nature and never afraid to try on a new style…

I love trying new things, and I love a lot of different music. I naturally implement these into my style, and also its really fun to rap, growl, and sing pop vocals in the space of one song. I surprised myself with some of the more pop styles I sung in. If it made me embarrassed to sing it, then I knew it was good. I really love the way Mike Patton in Faith no More sometimes mixes boy band style vocals with groovy downtuned metal. Sometimes I'm heavily influenced by certain songs, even certain sections of songs by a band, I feel that is the best part they ever did, so I captilise on that moment and use it for my stuff.

You publish your work without a label or distributor. A conscious decision, or would you consider signing a deal some day, when time feels right for you?

This is my first album, and I'm currently getting my name out there. I would love to get signed, if it will be beneficial to my music and life.

Listening to your album, I was somehow thrown back to the mid 90s with all those rave and techno-sounds. An exiting period that is also a main influence on your work?

There's definitely an Aphex Twin influence in there, I find it hard not to be influenced by him. Then Massive Attack as well, their huge, deep and spacious productions. I like some New Order stuff, and a lot of metal from the 90s. Particularly Death Metal, and some other stuff like Deftones and Strapping Young Lad. A lot of this stuff influences me. But I started wanting music that didn't exist yet, so I created it. Making music is just shaping the world as I wish to see it.

Speaking of sound, which CD do you enjoy listening to the most at the moment?

Syro by Apex Twin I have had in the car for a while. It took a while but I really enjoy it now. Track 2 has a way of fading in and out of my consciousness, like I forget it's playing, but then I recognise it again, always at the same part. But the main thing I'm listening to right now is Harry Potter on audiobook, read by Steven Fry. I drove from Darwin to Melbourne in 3 and a half days, which is 3800km, and had Harry Potter playing the entire time. We ended up naming the car Harry.

Quite an interesting fact that your wife, who did such an amazing job in creating an original artwork for this album, is originally from Germany. How did the two of you meet?

Yes! The artwork is amazing, I couldn't believe how she came up with it. It's just on another level, and I want to delve into that world that she drew. I was backpacking around Australia, left my car and possessions behind, just took a backpack and my mother's old 12 string guitar. I was in Darwin at that point, working as a door to door salesman selling solar panels. I was living in a communal household in the rainforest, and Iris was a backpacker from Germany who came to stay there. I fell for her and was at a creative peak, writing songs constantly and writing stories and drawing. Eventually she started to notice that most of my songs were about her. We ended up moving out together, and at one point living in a tent on the beach. We would cook food on public barbeques and shower at the beach. I would make music all day at uni, then work late delivering pizzas, then we would drive back to the beach at 1am and set up the tent. It was an exhausting time! Then we skydived out of a plane and landed on the beach and got married in front of 6 people.

As an Australian, what impressions did you get from Germany so far and what is "typical German" in your opinion? Are there any places you'd like to visit in the future, and are there any fellow musicians of German origin that you enjoy listening to?

I love Germany. First of all, the food is amazing and a lot cheaper than Australia. I ate pretzels as much as I possibly could, the beer is great and cheap, and you can drink alcohol in public! The organic shops are awesome and much cheaper than over here, and the embracing of renewable energy is great. So much solar! It was funny driving through solar farms and seeing them all covered in snow. Australia has some solar but is far from where Germany is. I also enjoyed driving very fast on the autobahn. I think it balances out the lifestyle. The music community is very strong and I would love to live in Germany at some point in my life.

Typical German is hurtling along the autobahn at 200km/h in a BMW, through vast fields of wind turbines, rays of sunlight breaking through rainclouds onto solar arrays, on the way to Berlin to see Kraftwerk play for 300 euros, pretzel in hand.

German musicians: Current Value! He makes rhythmically obsessive and sonically pristine soundscapes. I particularly like his mid to late 2000s stuff, where he was at his most inventive and rebellious. I didn't get to see him in Germany but one day I will!

|| INTERVIEW: DANIEL DRESSLER / ANTJE BISSINGER | DATE: 30/02/14 | CONTACT || [READ IN GERMAN] || ["BLOMA" REVIEW] >

Website/Get your copy of "Bloma" here:
www.bloma.org

Bloma on Facebook

BLOMA ARTWORK & PHOTOGRAPHY © IRIS ANSTEY.


READ MORE IN ENGLISH? HERE ARE SOME EXCLUSIVE INTERVIEWS TO ENJOY
Andi Harriman & Marloes Bontje, Authors of the 80s Postpunk/Goth Compendium, "Some Wear Leather, Some Wear Lace"
Sophie and Marianthi of Marsheaux talk about their forthcoming Depeche Mode Tribute, "A Broken Frame"
Matt Howden (Sieben) talks about his RASP project, a recent collaboration with Jo Quail



<< HOME || KEEPING UP WITH UNTER.TON? MEET US ON FACEBOOK >>


© ||UNTER.TON|MAGAZIN FÜR KLANG- UND SUBKULTUR||